bubble film machine is scientific and reasonable structure design, smooth and reliable running and convenient operation and maintenance. Polyethylene air-cushion film (also called polyethylene bubble film), which is divided into two kind: ordinary polyethylene air-cushion film and composite polyethylene air-cushion film, is a kind of packing material which has been widely used at present. It not only has good cushioning effect, shock resistance and heat-sealing performance, but also has such advantages as good corrosion resistance and transparency , etc. So it has been widely used for packing, household wares, post parcel, bicycle , polyurethane furniture, etc.1.This air bubble film machine's aircrew adopts the disposable shaping craft.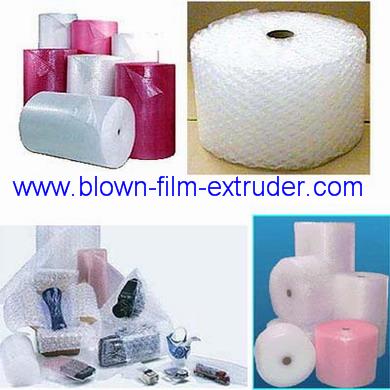 1.This bubble film machine's aircrew adopts the disposable shaping craft.
2.The air bubble film machine is our factory that draws demotic and international advanced technology extensively, through a large number of production practic eses in having ordinary equipment originally, develop, designing,can produced polyethylene compound bubble(cushion) membrane in succession.
3.Designs science, practical. Rational in structure of the air bubble film machine.
4.The main machine and the composite parts can realize ganged frequency-converting.
The frequency converting is stable and accurate. The temperature control adopts PID intelligent temperature control.It is energy saving ,environmental and aureate.The composite parts can adjust pneumatic control which can saves a lot of time and efforts.

Model: KDPEG-1000 KDPEG-1200 KDPEG-1500 KDPEG-2000;
Main&minor Screw Dia.: 60mm/50mm 65mm/55mm 85mm/65mm 95mm/70mm;
Film width: 1000mm 1200mm 1500mm 2000mm;
Output: 120kg/h 160kg/h 180kg/h 250kg/h;
Total power: 75kw 95kw 120kw 165kw;
L/D: 28:1 28:1 28:1 28:1;
Linear speed: 1100m/hour 1100m/hour 1100m/hour 1100m/hour;
Weight: 5T 6T 7T 9T;

Kingdom Machine co,ltd
Mobile:0086-1358812663; 0086-13088651008;
Whatsapp/Viber/tango:+86-13958812663;
Tel.:0086-577-66881211; Fax:0086-577-66881311;
[email protected]; [email protected];
Skype:kingdombillwang
www.kingdommachine.com;
Ruian Economic Zone,Wenzhou,China